Südtiroler Transportstrukturen (STA) defines new architecture for management of public transport in South Tyrol
In the framework of the project "Bingo" (Broad Information Goes Online), financed by the European Regional Development Fund (ERDF), Program 2014-2020, a new digital architecture for the management of public transport in South Tyrol, an autonomous Province in the north of Italy, has been defined and implemented. The architecture was defined by Südtiroler Transportstrukturen AG (STA) in close cooperation NOI Techpark.
The architecture is characterized by two main aspects: (i) clear separation of the responsibilities between PTOs and PTA; and (ii) full application of the open standard protocols defined in this domain, which are NeTEx for the exchange of planned data, SIRI for the exchange of real time data; OJP [3] for the access to journey planning services and ITxPT for the on-board architecture on vehicles. An high-level overview of the entire architecture is given in the figure below.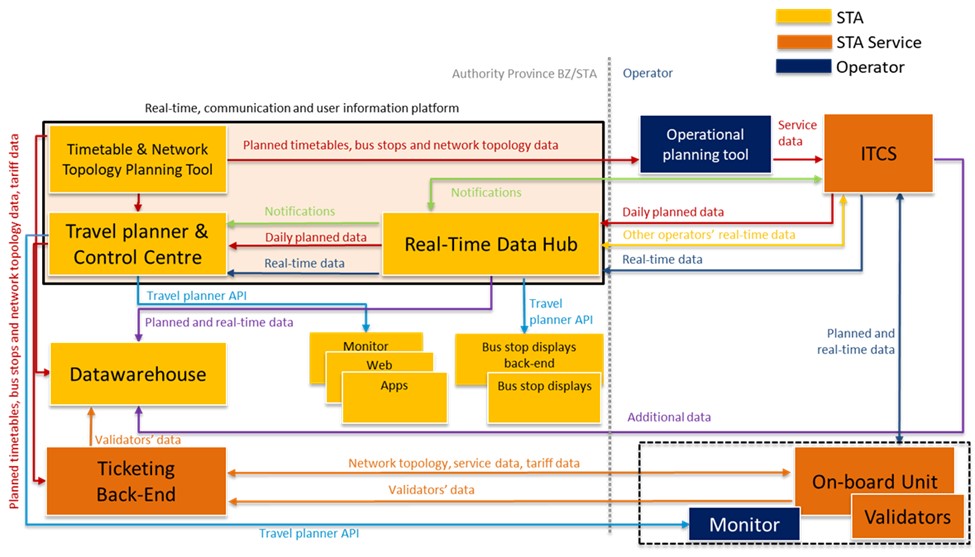 The Real Time Data Hub, in operation since 2018, is the system component coordinating all the real-time data flows. It fully supports the exchange of multilingual data by means of all SIRI protocols (ET, PT, VM, SM, ST, CM) and is able to convert them in the correspondent VDV-453/4 services, and viceversa. The first implementation of SIRI in South Tyrol has been with the back-end of the bus stop displays, which was an existing system implemented many years ago. Thanks to a software update it was possible to feed the back-end and as a consequence all displays at the bus stops by means of a SIRI SM interface.
The full implementation of the other SIRI interface is ongoing and will cover the usage of:
SIRI PT / ET for the delivery of the actual planned data and the real-time data from the new ITCS that is under introduction, and that will be used by all bus PTOs;
SIRI SX for the exchange of disruption information;
SIRI VM for the real-time visualization of the positions of all vehicles;
SIRI CM for the real-time management of interchanges.